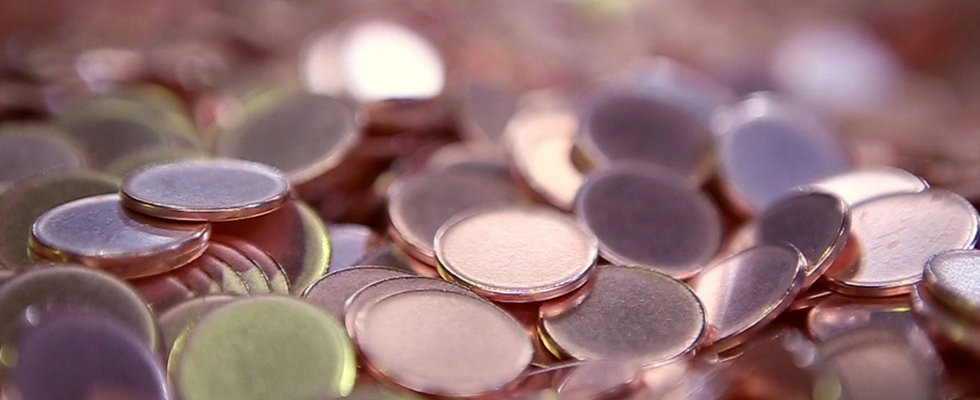 "PLATED BLANKS", is the distinctive title of the electroplating division of RODA SA, that for more than fifteen years, among other activities, electroplates circulation coin blanks according to the needs of each different specification, by supplying blanks "ready to mint" to various European Mints with 100% acceptance rate.
The actual annual production capacity for copper and copper alloys plating, is about 2.200 tones.
Basic equipment includes;
Fully automatic electroplating line equipped with Swedish KRAFT electronic rectifiers
Walther Trowal CA650 and CB800 polishing vibrators
PRODITEC VISIA-CM sorting device
Fully equipped chemical laboratory and all necessary quality control devices
Additional equipment and technical knowledge in metal forming and blanking, that actually serves a different production sector of the company, allows us to also discuss for the production of steel blanks.
Head offices and production plant is located in the industrial area of Thessaloniki – Greece, main road-rail and seaport junction of Balkans.
Contact us
Fill in the following form and we will get back to you as soon as possible.
PLATED BLANKS
Electroplating division of RODA SA
Sindos Industrial area
Sector C- OT 48b, PO BOX: 1171
57022 Thessaloniki, Greece
e-mail: info@plated-blanks.com
tel: +30 2310795612
fax: +30 2310795614